No experience has been too unimportant,
and the smallest event unfolds like a fate,
and fate itself is like a wonderful, wide fabric
in which every thread is guided by an infinitely tender hand
and laid alongside another thread
and is held and supported by a hundred others.
Rainer Maria Rilke, Letters to a Young Poet (April 23, 1903)
Over this past year or so, all the appliances in my kitchen broke. Disposal, stove, dishwasher, microwave. Everything, except the refrigerator. Contrary to the ancient wisdom that says don't leave things broken because that will attract more broken things into your world, I let them rest in peace in my kitchen and reverted to no-microwave, no-disposal, patch-and-mend-dishwasher and toaster-oven living.
Then last spring I had a conversation with the kitchen fairy. You see, the appliances weren't the only problem. The DIY kitchen cabinets featured doors made out of old windows and, consequently, wouldn't pass safety codes, much less an energetic bump from one of my mammoth dogs. And the giant concrete laundry basin that masqueraded as my kitchen sink never drained properly and was home to black mold (all the time).
To repair or not to repair? No easy answer. There's the possibility I might have to leave my home next year so why bother? But we decided, the kitchen fairy and I, that I should probably just take a step in faith and pull everything out. The house would probably sell for more, if it came to that, and I could actually cook in the meantime. In late June I began what was to be a four month process of redoing the kitchen.
There were losses along the way. One of the cabinet shelves collapsed due to flimsy shelf clips and heaved my mother's blue willow china on to the floor. Lost quite a few pieces to the clip debacle. Then one of the carpenters dropped a screw driver from a terrible height on a pile of pretty painted dishes. Seriously, how that sharp-shooting screwdriver managed to navigate through boards and cabinets to land squarely on a helpless little dish is nothing short of remarkable. I picked up the various broken bits and put them on the dining room table to toss out later.
Then one more break -- when I fell hauling construction debris to the street -- spraining one uninsured foot and breaking the equally uninsured other. I couldn't drive. I couldn't walk. I crawled around on my hands and knees. I slept on the sofa for weeks. I cooked frozen meals in a toaster oven on a trunk at the end of the sofa. Shortly after my fall, the carpenters disappeared after receiving their first paycheck. Life didn't stop for chaos but thanks to a whole lot of help from friends and family the groceries arrived, there was help with trips to the orthopedic clinic, etc. Even the remaining subcontractors found all kinds of ways to extend unexpected kindness. Hauling away debris. Buying me a pair of plumber's knees to cushion my crawling.
This brings me back to the lesson of the broken dish.
My son saw the ceramic remains, ready for the garbage heap, and asked why I didn't just repair it. Had I heard of kintsugi? Kintsugi means "golden joinery". Using a lacquqer mixed with gold, silver, or platinum, artisans repair broken objects in a way that highlights the damage. When an object breaks, that's just part of its story and a reason for celebration. How had I never heard of this?
Hearing my summer story a wise friend asked whether there was a lesson that Life might be offering me. Well, that's a complicated idea, I said, while crawling to the toaster oven. But maybe Life did want me to learn something new. If I can apply kintsugi principles to last summer, to all my summers, maybe I'll see my life with new eyes -- messy, unpredictable, sublimely beautiful at the broken places.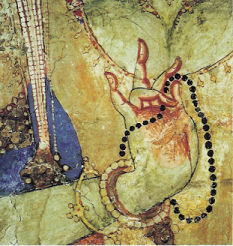 Green Tara, Mural detail, artist and date unknown.