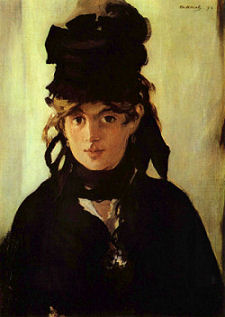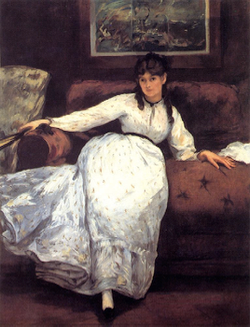 By all accounts, the independent and unattached Berthe Morisot fascinated the married Édouard Manet. Between 1868, when they first met, and 1874, when she married his brother, he painted her portrait eleven times, making her his most frequent model. His wife Susan Leenhoff sat for five paintings [including Luncheon on the Grass] and Victorine Meurent [including Luncheon on the Grass], eight.
Manet produced his final images of Morisot during the time she became involved with his younger brother and then married him (1872-74). These last portraits provide a window into the intense desire and rivalry which Manet felt in his relationship with her. As the loss of Morisot neared, there was an increasing distortion of her image and departure from his usual painterly technique. This culminates in the skull-like portrait Berthe Morisot in a mourning hat [1874]. After Morisot's marriage, Manet never painted her again. At his death, seven of her eleven portraits remained in his private collection.
The repose. 1870. Rhode Island School of Design. Providence.

The Balcony. Edouard Manet. 1868. Musee d'Orsay, Paris.

Berthe Morisot with a bouquet of violets. Édouard Manet. 1872. Musée d'Orsay, Paris.