Black is not a color.
Édouard Manet (1841-83)
Though Édouard Manet never enjoyed popular acceptance and acclaim as an artist, his early masterworks, Olympia and Luncheon in the grass, were a cultural watershed that marked the advent of Modern Art and laid the groundwork for the Impressionistic movement. Both works also ignited a furious public outcry which prompted Manet to lament: The insults rain down on me like hail.
Modern art historians, attempting to explain the furor over these two paintings, look to their cultural context. During the 1860's, although it was common practice for Victorian men to seek paid sexual services, it was quite another for them to be confronted with it. One major reason Luncheon in the grass was so controversial was that many interpreted the scene as referencing the Bois de Boulogne, a large Parisian park. In 1863, when the painting was on exhibition, the Bois de Boulogne was a well-known site for prostitution. For the Parisians, it was one thing to know about the sexual activities in that park, but it was quite another to publicly reveal it. In their eyes, Manet was breaking a closely held sexual taboo.
Another significant aspect of Manet's artistic and personal life was his enigmatic relationship with French Impressionist Berthe Morisot. Over a seven year period (1868-74), Manet painted eleven portraits of her, making Morisot his most frequent model. His wife, Suzanne Leenhoff, is in only five paintings and Victorine Meurent, his model and an artist in her own right, appears in eight.
Manet produced his final images of Morisot during the time she became involved with his younger brother Eugene and then married him (1872-74). After Morisot's marriage, Manet never painted her again. He died in 1883 of complications from syphilis. At his death, seven of her eleven portraits remained in his private collection.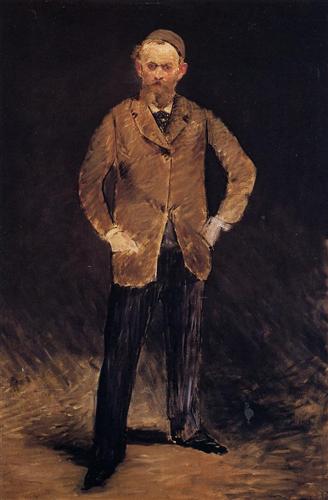 Manet, self-portrait with a skull cap. 1878. Bridgestone Museum of Art, Tokyo, Japan.

Self-portrait with palette. Édouard Manet. 1879. Private Collection.