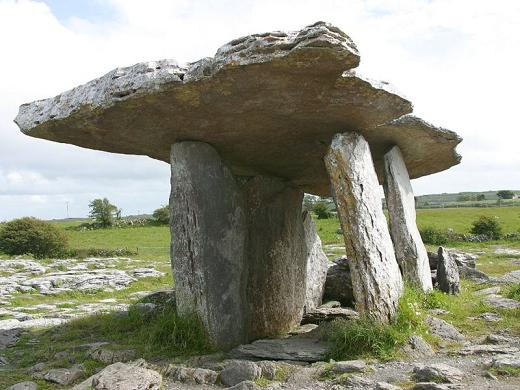 We must be willing to get rid of the life we've planned, so as to have the life that is waiting for us.
Joseph Campbell (1904-87) mythologist, writer, lecturer
A dolmen is a neolithic burial structure which consists of two upright stones capped by a third. It is also known as a portal tomb. These structures are found throughout Europe. And it is the designation "portal tomb" which comes to mind this morning in the context of the Easter tradition of death and resurrection. It is extraordinary to contemplate these structures -- to think that, thousands and thousands of years ago, humanity attempted to create an architectural symbol for death. And what they expressed is this: death is not the end -- it is a gateway, a portal, an opening between this existence and another.
It seems to me that there are many deaths along the way to the death of the flesh. That our soul or spirit or self, whatever you might wish to call it, is offered the opportunity to die and be reborn many times. And that is what I think of when considering this dolmen -- how I am called to release the old and move toward the new over and over again.
Poulnabrone Dolmen, translating hole of sorrows. The Burren, Ireland.