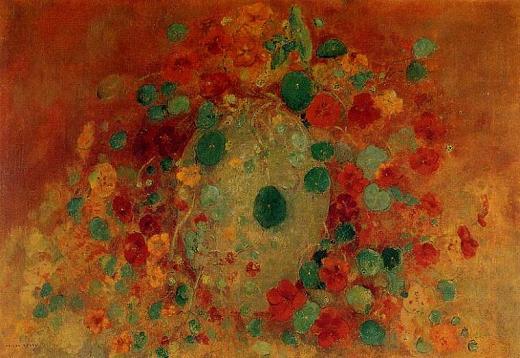 Nasturtiums. Odilon Redon. 1912. Yale University Art Gallery.
I attended a lecture one evening recently. Arriving early I decided to pass the time in the bookstore next to the lecture space. When I walked through the front door, the display featured a book which is the perfect companion to my recent musings and I recommend it if you would like to know more about the link between illness, creativity and personal transformation.
When Walls Become Doorways: Creativity and the Transforming Illness by Tobi Zausner covers the lives of countless artists and the illnesses/events which transformed them. Zausner's voice is rooted in her personal experience: she is both an accomplished artist and a survivor of ovarian cancer. It is a simple, soul-lifting read, infused with the belief that our suffering can be a gateway to something much, much more. What I enjoy about this book so much is that Zausner divided it into small readable sections. Because of that, a particular artist and their story can follow you throughout the day. Rather like a daily meditation.
It is intriguing to me how -- over and over again -- so many of the great artists had personal and artistic transformation following a life-altering illness or traumatic event. Hildegard of Bingen, Julian of Norwich, and Margery Kempe were three medieval women who each realized transformation following serious illness. Hildegard suffered from chronic, debilitating migraines. Julian of Norwich and Margery Kempe both had nearly fatal illnesses. And for all three it was the illness which precipitated the intensifying of their work and the enlarging of their relationship to the Divine. In other words, the experience of their illness was also the experience of the most sacred center of their being, their axis mundi.
From 1886-1895, events in the life of Odilon Redon laid the groundwork for the transformation of both the artist and his art. He and Camille Falte, his wife, had their first child, Jean, in May 1886. When Jean died the following November, the acutely sensitive and artistic Redon entered a prolonged period of depression and spiritual crisis. His artwork during this ten year period provides an intimate window into his healing, as he moves from macabre-themed charcoal sketches to mythological and floral works bathed in luminous color. Some art historians credit the birth of his second son Ari in 1889 as being an important factor in Redon's eventual recovery.