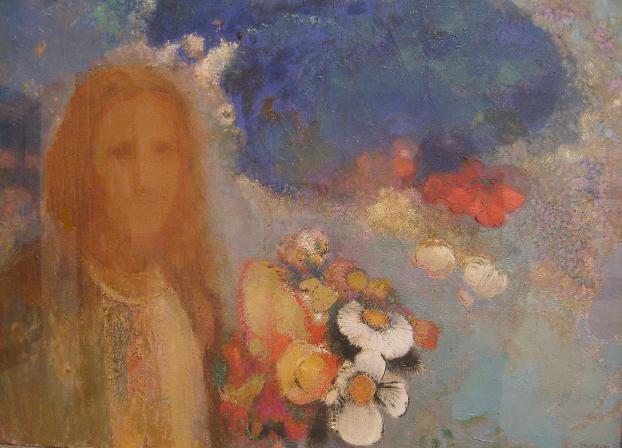 Spring, Odilon Redon. c. 1914. Worcester Art Museum. Worcester, MA. In Greek mythology, Hope was the daimon Elpis. Traditional depictions show her as a young girl holding flowers.
There is nothing better than finding a new friend and Marie Howe qualifies as that for me. Earlier this summer I met her through an interview on American Public Radio and Speaking of Faith's series "Repossessing Virtue: Marie Howe and Laura Ingalls Wilder". In the interview Howe describes how she and her daughter are embracing a simpler everyday existence. This gravitation to the simpler things paralleled changes in her professional life and her reading of the Little House on the Prairie series with her daughter.
In life as in art, Howe explores the wonder of the everyday and the beauty of communal living. This reverence for simplicity and relationship is what I hear in her poem, "What the Living Do". Throughout the piece she holds up small jewels of daily living and in doing so she venerates life itself. Her veneration is the fear, "terror" if you will, of that which is holy. When we encounter the divine, ancient texts command that we show respect through our fear or, if you will, "terror". Howe knows this though she would choose other words for fear, probably awe or wonder.
That first interview with Howe inspired me to look for more of her work, as spoken word, online. There is a recording of "The Gate" from NPR's On Being with Krista Tippett. Howe's language and voice are finely tuned, stripped, spare and light, yet deeply intimate. The poem is quite beautiful as a written piece but it is breathtaking to hear Howe give voice to it.
"The Gate" draws from her brother's AIDS-related death, an event that Howe frames as a personal awakening. She chronicles her discovery of the transcendent in the everyday through her brother's recognition of these beauties. When Howe writes in "The Gate" of a moment in the kitchen with her brother, we are there with them. Her brother becomes our Buddha-teacher, illuminating the mystery as he holds up a cheese and mustard sandwich and says, This is what you have been waiting for.
The death of Howe's brother is the gateway to a richer life experience not only for his sister but for us as well. Through Howe's poetry, we awaken to a deeper truth, the truth that it is the ephermal daily miracles that matter most. According to Howe, it is this truth that we have been waiting for.
THE TEACHING OF THE FLOWER
The Buddha was on a mountain teaching when he picked a flower and held it up. The disciples looked at him in bewilderment until one, Mahakasyapa, began smiling. The Buddha said, I have the true Dharma eye, the mind of Nirvana, the true form of no-form, and the flawless Dharma gate of the teaching. It is not established upon words and phrases. It is a special transmission outside tradition. I now entrust this to Mahakasyapa.
Through this teaching of the flower, the Buddha shows that enlightenment is beyond theories and teachings, and is possible through the intuitive experience of Life.