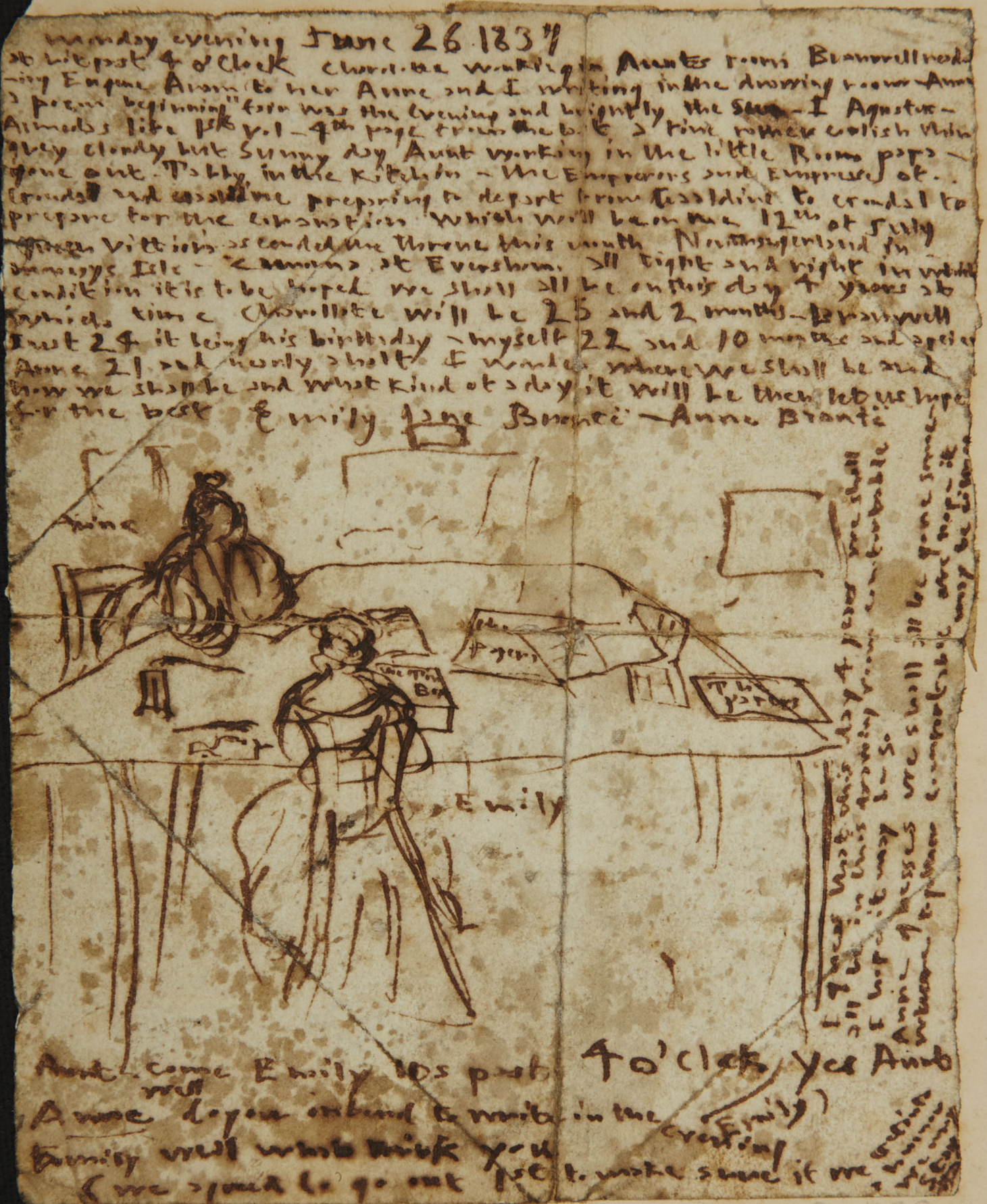 Emily Brontë's diary (June 26, 1837), working with Anne at the dining room table. The diary is part of the collection of the British Library.
I've dreamt in my life dreams that have stayed with me ever after, and changed my ideas; they've gone through me, like wine through water, and altered the colour of my mind.
Emily Brontë (1818-48) writer, poet, second of the three surviving sisters
Emily Brontë was an extremely introverted individual who had few friends and was drawn to the mystical. Little of her juvenile writing survives. However, her adult poetry was the inspiration for the collection which the sisters published in 1846.
She is best known for her only novel, Wuthering Heights. It was first published as two volumes of a three volume set which included Agnes Grey. The first edition credited Ellis Bell with its authorship. After Charlotte and Anne revealed the true identities of Currer, Ellis and Acton Bell in 1848, there were some who still believed that Branwell must have written Wuthering Heights. This skepticism was due to the intensely passionate nature of the text, which contemporary readers thought could only be written by a man and not a sheltered and retiring woman.
Shortly after the funeral of her brother Branwell in 1848, Emily became ill. She refused all medical attention, contracted tuberculosis, and died three months later. In 1850, Charlotte published Wuthering Heights as a stand alone novel and under her sister's real name. The complex approach to the structure of time, coupled with the use of layered narrative, made this novel one ahead of its time. It is also this innovation which may make Emily the most gifted of the three Brontë writers.

WORKS OF EMILY BRONTË
Poems by Currer, Ellis, and Acton Bell (1846)
Wuthering Heights (1847)