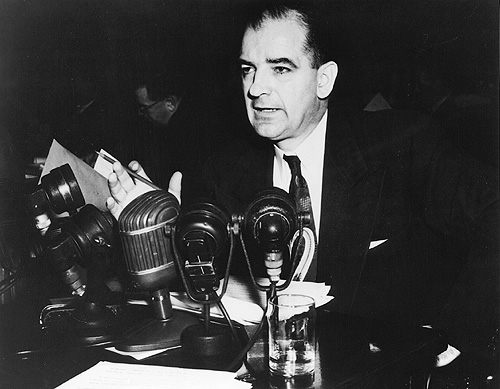 The Salem Witchcraft Trials of 1652 inspired Arthur Miller to write his Pulitzer-prize winning play, The Crucible. During one of the play's pivotal moments, a group of girls accuse another girl of witchcraft in order to coerce her testimony. Written during the 1950's, Miller's play is a thinly veiled indictment of McCarthyism.
In 1950 Senator Joseph McCarthy produced a list of 205 State Department employees who he claimed were Communists. Though McCarthy had little proof, a national witch hunt followed. McCarthyism was possible due to the pervasive public anxiety surrounding the onset of the Red Scare and the Cold War. McCarthy fell out of public favor for his televised bullying of witnesses and in 1954 he was censured by the Senate.
The scapegoat phenomenon is a defense mechanism that insulates the group from its own destructive feelings. Candidates for scapegoating are often vulnerable or isolated and represent ideas that threaten group identity and assumptions. If the group successfully drives a scapegoat from its midst, anxiety lowers and solidarity is forged. However, since the group has not addressed the real underlying issues, the cycle will begin again. Scapegoating is a normal milestone in the beginning formation of groups, but it is not a component of mature group function. The scapegoat is, always and only, a symptom of an underlying group pathology.
SAINT JOAN OF ARC
Children say that people are sometimes hung for speaking the truth. Joan of Arc (1412-1431)