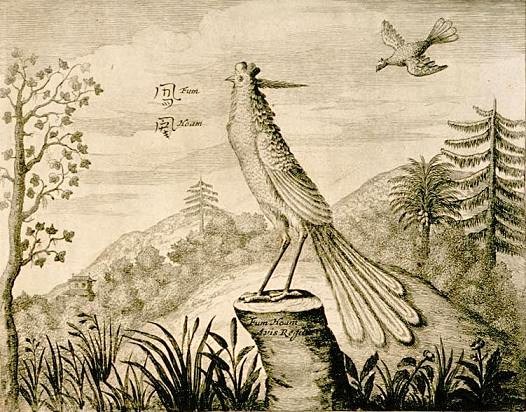 A Chinese phoenix, illustration for Toonneel van China. Artist unknown. 1664.
The phoenix lives for 500 years or more. When it sees that it has grown old it builds a pyre for itself from spices and twigs, and facing the rays of the rising sun ignites a fire and fans it with its wings, and rises again from its own ashes.
St. Isidore of Seville (7th Century), archbishop, writer and scholar
The mythological roots of the phoenix may be found in its Egyptian counterpart, the Bennu, a crane-like bird believed to be the soul of the sun-god Ra. Egyptian myth says that the Bennu burst into being from the heart of Osiris, god of life, death and fertility. This explains its use as a symbol of creation and renewal.
In Chinese mythology, the phoenix is also known as the red bird or feng-huang, one of the four celestial guardians (dragon, tiger, turtle, red bird). She is the feminine antithesis of the masculine dragon. Often seen in conjunction with the dragon, the combined symbols represent the paradoxical wholeness that is created when harmony and conflict are both present. The appearance of the phoenix signals auspicious new beginnings. Her disappearance signifies the opposite.
The Christian and Jewish traditions have also adopted this mythological symbol. In Christianity it is used as a symbol for the death and resurrection of Christ. In Jewish folklore, the phoenix is the only animal that God permitted to stay in the Garden of Eden after the Fall.
In the alchemical process, the phoenix represents the completion of the soul transformation process.