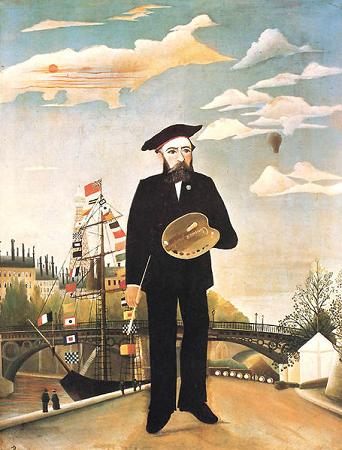 Those who have compared our life to a dream were right. ...We sleeping wake, and waking sleep.
Michel de Montaigne (1533-92), writer
The Sleeping Gypsy is a masterwork of Henri Rousseau. Both a source of inspiration and parody, this is one of the world's most widely recognized paintings. Rousseau, a French Post-impressionist in the primitive or naive manner, was first a customs officer in 19th Century Paris. He was also a self-taught artist who only began painting extensively after the age of forty. His best known works feature jungle motifs even though he never actually traveled outside of France. His lyrical artistic gift, largely unrecognized in his lifetime, influenced such painters as Picasso, Beckmann, and the Surrealists.
The sleeping gypsy (La Bohémienne endormie). Henri Rousseau. 1897. Museum of Modern Art, New York.

Self-portrait.1890. National Gallery in Prague.