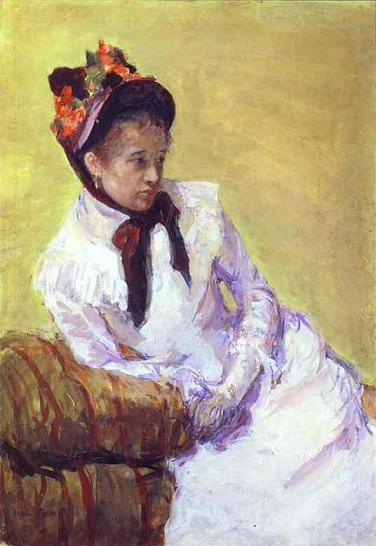 I have touched with a sense of art some people – they felt the love and the life. Can you offer me anything to compare to that joy for an artist?
Mary Cassatt (1844-1926)
Mary Cassatt was an American painter and printmaker, part of the French Impressionistic movement and perhaps best known for her portrayals of the intimate bond between mother and child. She was born into a wealthy Pittsburgh family who placed great importance on travel as an aspect of education. By the age of ten she had already visited many of the world capitals. As a young adult, even though her parents disapproved, she pursued the study of painting at the Pennsylvania Academy of the Fine Arts. The Academy was not a good fit. Cassatt felt the pace of instruction was too slow and the male faculty and students too patronizing. She relocated to Europe in 1866 to study the Old Masters on her own.
At the start of the Franco-Prussian War, Cassatt returned to the United States to live with her family. During that time, her parents provided her basic necessities but refused to purchase any art supplies. She was able to return to Europe when the Archbishop of Pittsburgh commissioned a series of paintings which required her being in Italy. Afterward she traveled throughout Europe.
By 1872 she had acquired a mature style and was studying in Paris with the patriarchal French Impressionist Jacob-Abraham-Camille Pissaro. She met Edgar Degas shortly after that and his work and friendship were influential to her craft. Her success within the French Impressionistic circle continued until the ill health of her sister and her mother, who had moved to Paris in the late 1870's, prompted her to quit painting to take care of them. By the mid-1880's, her sister had died and her mother had recovered and Cassatt was painting again.
The 1890's marked the beginning of the most creative and productive period of Cassatt's life. She had broken with the Impressionistic movement, developing a style which observed life through a personal and yet unsentimental lens. This approach was particularly evident in the works for which she is best known: intimate portraits of mother and child in everyday settings. During this time, she also began mentoring other American female artists and advising collectors.
Around 1911, Cassatt developed chronic health issues and by 1914 blindness forced her to cease painting. She then became involved in women's suffrage, showing her paintings at an exhibition in support of the movement.