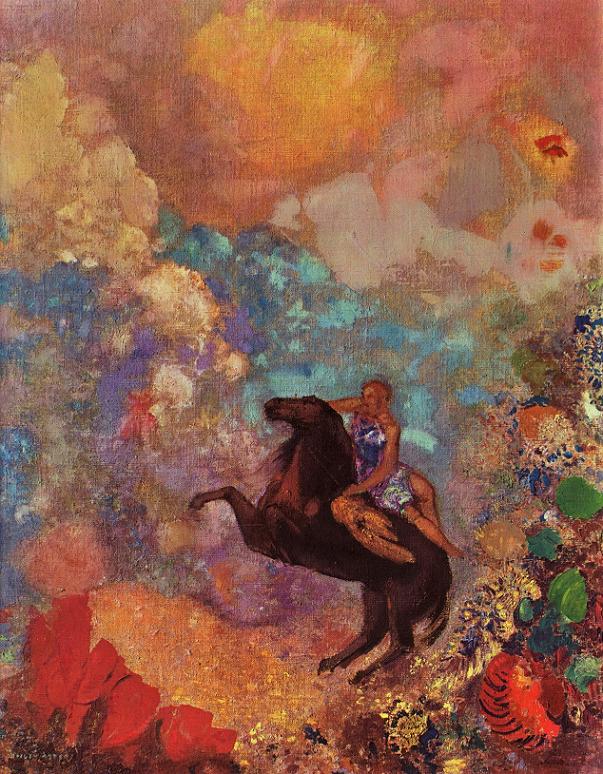 Muse on Pegasus. Odilon Redon. 1910. Private collection. In addition to Muse on Pegasus (1900), there are numerous other versions of the mythic horse-god by Redon, including: Black Pegasus I (1909), Pegasus Captured (1889), Pegasus (1894), White Pegasus (1900), Pegasus Triumphant alternately known as Pegasus and the Hydra (1907), and Black Pegasus II (1914).
A work of art is above all an adventure of the mind.
Eugene Ionesco (1909-94), French dramatist
While Bellerophon was visiting Argives, King Proteus and his wife Antea entertained him. During his stay, Antea asked Bellerophon to meet her secretly so that they could lie together but he was an honorable man and refused. In retaliation, Antea told her husband that the innocent youth had tried to lie with her against her will. She begged her husband to execute him.
Proteus was unwilling to kill Bellerophon himself. Instead Proteus dispatched him to Lycia with letters of introduction which contained many slanderous lies. He told Bellerophon to present the letters to his father-in-law with the hope that the king of Lycia would kill him.When he reached Lycia, the king entertained him for nine days. On the tenth day, Bellerophon presented him with the letters. After reading them, the king was furious and determined to send him to his death by commanding that he slay the Chimera. The Chimera was not a human being, but a goddess with the head of a lion and the tail of a serpent and the body of a goat. When the Chimera opened her mouth she breathed flames of fire. Before Bellerophon went into battle, a seer advised him to first capture Pegasus.
Pegasus was a horse-god, the son of Poseidon and the Medusa. According to the myth, when Perseus cut off the head of the Medusa, Pegasus was born out of her blood. Athena, goddess of wisdom, war, the arts, and justice, had captured Pegasus with a golden bridle and presented him to the Muses who put him in service to the poet. In order for Bellephoron to capture the winged horse, the seer advised him to make offerings to Athena and then to sleep in her temple. Bellerophon followed his advice and while he slept in the goddess's temple, she appeared to him in a dream. When he awoke, the golden bridle was on the floor beside him. Bellerophon took the bridle and waited at the well of Pirene. Pegasus arrived there at dusk, as was his custom, and knelt to drink. Bellerophon sprung out of hiding and after quickly bridling the horse's head, he leapt on his back. Pegasus attempted to throw the youth, but he could not. The two then flew off to Lycia to battle the chimera.
Afterward Pegasus completed his adventures on earth, Zeus placed him in his heavenly stables where he can be seen as a constellation to this day.