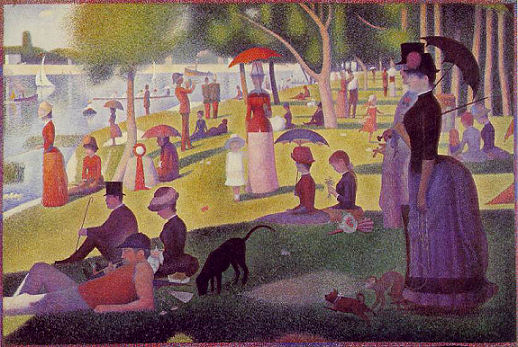 Sunday afternoon on the island of La Grande Jatte. Georges Seurat. 1884. Art Institute of Chicago.


SUNDAY AFTERNOON ON THE ISLAND OF LA GRANDE JATTE (GEORGES SEURAT)
Sunday is the golden clasp that binds together the volume of the week.
Henry Wadsworth Longfellow (1807-82), American poet
This painting, two years in its execution, is an example of pointillism. In pointillism, small distinct points of primary color are placed next to each other on the canvas and the mind blends them, creating the impression of secondary and tertiary colors. Designated as one of the most significant paintings of the 19th Century, Sunday Afternoon on the Island of La Grande Jatte altered the course of modern art and marks the beginning of neo-impressionism.