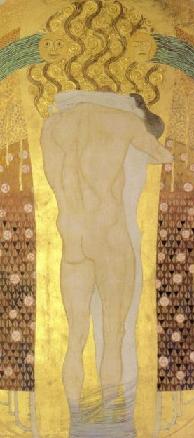 (top to bottom) The Kiss. 1907-08. Österreichische Galerie Belvedere, Vienna, Austria; The Beethoven Frieze, 1902. Österreichische Galerie, Vienna. The embrace of Isis and Osiris, detail of working drawing for Stoclet Palace interior. ca. 1905. Österreichisches Museum für angewandte Kunst, Vienna.


A GLEAMING SPARK
Joy, thou gleaming spark divine. ... This kiss to the whole world!
Friedrich Schiller (1759 - 1805), poet, historian, dramatist; from Ode to Joy (1785)*
Painted during Gustav Klimt's "Golden Period", The Kiss is his most famous work. It is also part of a series of paintings which illustrate the idea of physical love as a metaphor for spiritual love. Each of these paintings feature a central motif which leads the eye along a vertical column. In this way, Klimt symbolizes the link love forms between Heaven and Earth.
In the first painting in the exploration, The Beethoven Frieze, the male figure eclipses the female form. He also sets the figures against a backdrop of operatic proportions: Singing angels, the water of life, and a broad tunnel of gold.