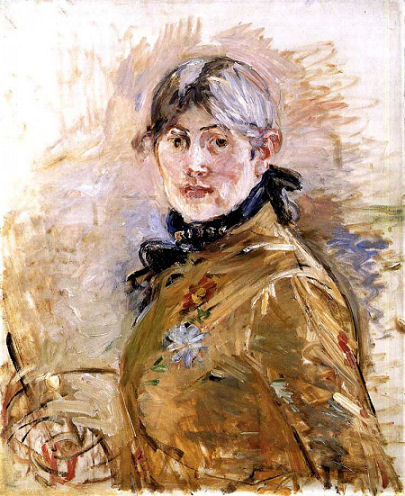 Self-portrait. Berthe Morisot. 1885. Private Collection.


HOW BERTHE CHOSE
[My desire] is limited to wanting to capture something that passes; oh, just something! the least of things. And yet that ambition is still unreasonable! A distinctive pose of Julie, a smile, a flower, a fruit, the branch of a tree, and every once in a while a more vivid reminder of my family, just one of these would suffice.
Berthe Morisot (1841-1895)
Berthe Morisot and Eugene Manet married on December 22, 1874 in the local church, Our Lady of Grace in Passy. Morisot's life-altering choice, to marry and to marry this particular man, provides a window into the head and heart of this woman.
Eugene Manet (1833-1893) was the second of three sons born into a wealthy and socially prominent family. He was very different from his brothers, Édouard and Gustave, in both physical appearance and temperament. With his beard and silky blonde hair he somewhat resembled Édouard, though Eugene was slighter and less dashing. He also had a decidedly more romantic aesthetic on life and love. His brothers were drawn to the glittering and provocative life of mid-nineteenth century Paris. Eugene, on the other hand, was more private and self-effacing, sensitive to the point of being high-strung. Because of his significant financial assets, he chose to be a man of leisure rather than pursue any particular occupation as his brothers did.
When the relationship between Morisot and Manet began to warm, Mme. Morisot voiced her objections. She found him high-strung -- to the point of being in ill health --and too idle to make a good marital partner. Morisot's father lived a dissolute life and after a lengthy illness had recently died. For years, Mme. Morisot had nursed him and her concerns about Morisot's marriage were likely due to that. Despite how much she had pressured her daughter to marry, Eugene seemed an unhappy choice. But Mme Morisot was wrong.
I've found an honest and excellent young man who, I believe, sincerely loves me. I've entered into the positive side of life after having lived for a long time by chimeras. A letter from Berthe Morisot to her brother Tiburce (January 1875)
Morisot was always ambivalent about pursuing her work as an artist, in lieu of marriage and family. She and her sister Edma exchanged letters over a period of years, Edma questioning her decision to abandon painting and Morisot assuring her that it is sad to be alone; despite anything that might be said or done, a woman has an immense need of affection. And yet Morisot, acutely sensitive and self-reflective, chose to remain single, weathering her isolation while becoming an increasingly accomplished artist.
For three years Manet and Morisot grew closer. The turning point came when their families vacationed together at the seaport of Fécamp in the summer of 1874. While painting side by side near a naval construction site, the two decided to marry. Marriage was certainly the expected choice at that time. Yet she had remained single into her thirties. To say that her age, coupled with parental and societal pressure, determined her choice is to underrate both Manet and Morisot. When Morisot decided to marry, she chose a man that was entrenched in the art world that she loved and unfailingly supportive and, if their correspondence is any indication, deeply in love with her.
In 1878 they had their first and only child, Julie (1878-1966). We know few particulars of her childhood and her formal education. Through Morisot's art, however, we have an intimate look at their family life. Though Manet was a less frequent subject, he appeared in other works, including Eugene Manet and his daughter in the garden at Bougival (1881) and Eugene Manet on the Isle of Wight (1875).
During the eighteen year marriage, she created over 350 artistic works. That kind of productivity from a married female artist was unheard of at the time. In addition, until Manet's death in 1893, they were both active in the Parisian art and literary world, their home serving as a gathering place for artists and writers of late nineteenth century France. However, what is perhaps most telling is that in 1885, Morisot produced her first self-portraits. Up until that time, her brother-in-law, Édouard Manet, had held dominion over her image.
Toward the end of his life, Manet's health was poor. Morisot was frail throughout as well, battling her own health problems and tendency toward melancholy. By the age of sixteen, Julie was parentless. In 1893, after a prolonged decline in health, Manet died. Two years later, after nursing Julie through a case of influenza, Morisot contracted pneumonia and died. Stéphane Mallarmé, a Symbolist poet and close family friend, became her legal guardian. Like her mother and her uncle Édouard, Julie had a facility for painting and became an artist in her own right. In 1900 she married fellow artist Ernest Rouart. They had three sons.