JOURNAL ARCHIVES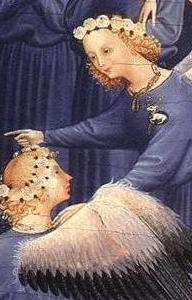 THE YEARS IN REVIEW

nurturing voice and vision
JOURNAL 2011

Nurturing voice & vision

Exploring faith & creativity 2007

JOURNAL 2010

Finding a guiding light

AUTUMN 2010

From a broken stone: Parsifal revisited

SUMMER 2010

Following the thread more closely

SPRING 2010

The commissions of Jean France, Duc de Berry

The little office of the blessed Virgin Mary

The annunciation to the shepherds

The presentation in the temple

WINTER 2010

(The Book of Kells)

(Piero della Francesca)

JOURNAL 2009

Creating a feminine myth

AUTUMN 2009

The girl with the peaches: portrait of Vera Mamontova

SUMMER 2009

While writing in Putnam Valley

The mythology of the chinese phoenix

The dream of the three white cranes

Sunday afternoon on the island of La Grande Jatte

SPRING 2009

The metaphorical rim of the glass

Woman and child against stained glass background

WINTER 2009

The appearance of a white hart

A fool, a cup and a wounded fisher king

JOURNAL 2008

Finding the inner muse

AUTUMN 2008

SUMMER 2008

Nude descending a staircase, No. 2

Sunday afternoon on the island of La Grande Jatte

SPRING 2008

Odilon Redon: before and after

The family of the artist: Ari and Camille

WINTER 2008

The mother and the sister of the artist reading

JOURNAL 2007

Exploring faith & creativity

AUTUMN 2007

A fool, a cup and a wounded fisher king

SUMMER 2007

The mythology of the chinese phoenix

The dream of the three white cranes

SPRING 2007

While writing in Putnam Valley

WINTER 2007

The metaphorical rim of the glass
FIFTH ANNIVERSARY OF LIFE AS MYTH 2007 - 2011

NURTURING VOICE & VISION

The white hart of the Wilton Diptych was the representative image on Life as Myth during 2007. In mythology the hart serves as spirit guide or divine messenger. In early Celtic mythology, for example, the appearance of a hart could indicate that the Otherworld was close at hand and that a mortal now stood on sacred grounds. In Arthurian legend, if one encountered a deer in the woods and followed its lead, then the individual immediately embarked on a great adventure.

We can look to the various myths as inspirational sources for our lives and as frameworks for meaning. Albert Camus said it best when he observed, "Myths are made for the imagination to breathe life into them." In other words, the myths are there as messengers and guides, but we must decide to engage, to breathe life into them, to follow the lure of a great adventure. My personal white hart myth includes both a life in the arts and, for the past ten years, a quest for the divine feminine. Looking back over the last decade, I can see how that particular framework for meaning has informed and shaped my life.

Very recently, while considering the panel above, the repeating hart motif caught my attention. Though it's possible that I have seen this painting before, I don't remember ever noticing the white hart. Art is full of mystery and points toward something just beyond words, just beyond our knowing. This image serves that function for me. It is a signpost, a perfect visual metaphor for my own private myth, the representation of the bridge between faith and creativity.
LIFE AS MYTH RETROSPECTIVE 2011

2007 - 2010

| | |
| --- | --- |
| A group of Parisian art students. ca. 1896. | |
LIFE AS MYTH RETROSPECTIVE 2011

2007 - 2010

The battle of Jericho. Gilded bronze panel. Battistero di San Giovanni. Florence, Italy. c. 1450. Photo: Deror Avi.

The gilded bronze doors on the eastern portal of the Battistero di San Giovanni [Florence] are the creation of Lorenzo Ghiberti [1378 - 1455]. Named "The gates of paradise" by Michelangelo, they are seventeen feet high and feature ten panels of Old Testament scenes. These magnificent doors mark the arrival of the Italian Renaissace.

Ghiberti first gained public recognition in 1401 when he won a commission to produce a set of bronze doors for the Florence baptistry. These doors were originally imagined as containing twenty-eight scenes from the Old Testament. However, the focus of the design changed during production to motifs which featured instead New Testament stories and the lives of the saints. Work on this commission began in 1403 and concluded in 1424. Upon completion of this project, Ghiberti immediately received a commission for the bronze doors which would become known as "The gates of paradise". Work on these ten-paneled doors took twenty-seven years to complete [1425 - 1452].

COMMENTARII

The oldest surviving autobiography of an artist is Ghiberti's Commentarii. Ghiberti was an avid historian and though this manuscript is incomplete it still provides valuable information on the Italian artists of the 14th Century. The period, known as the Trecento [mille trecentro, Italian for 1300], marks the beginning of the Italian Renaissance movement. In addition to fostering significant advancement in music, painting and sculpture, this era nurtured writers in their transition from Latin to the more accessible vernacular. Notables from this period include Dante, Petrarch and Boccaccio.

LIFE AS MYTH RETROSPECTIVE 2011

2007 - 2010

Romanesque archway. Clonfert, Ireland.

Situated on the grounds of the 6th Century monastery founded by St. Brendan, his namesake cathedral is the oldest church in Ireland with an unbroken history of public worship. At one time Clonfert was a noted seat of learning with 3000 monks in residence. During the reign of Queen Elizabeth, it was a proposed location for the university which later became Trinity College, Dublin.

In modern times, religious services occur only every month or so, usually when a priest comes to the parish as part of a rotating schedule. In between visits, the church is locked and in order to view it, you have to get the keys from the couple that live in a cottage adjacent to the church grounds.

There are two particularly notable architectural features. One is the ornately carved Romanesque doorway. The other is a pagan icon, found in the church, which might be linked to the mythology surrounding St. Brendan.

According to Celtic legend, St. Brendan (also known as Brendan the Voyager), accompanied by a large group of monks, sailed off in search of a mythic island paradise. After seven years, they reached The Isle of the Blessed, or Terra Repromissionis, an island paradise with lush vegetation. Brendan's narrative of the island makes the location difficult to determine. One interpretation supports a location not far off the west coast of Ireland. Another places the island further south, making it synonymous with the ancient "Fortunate Isles".


The maritime mythology of St. Brendan might explain the presence of a mermaid at Clonfert (installed next to the pulpit). It is not unusual in Irish myth and iconography for pagan and sacred traditions to exist side by side and to inform each other. However, what the mermaid represents in this particular context is not known.

The mermaid at Clonfert.

A mermaid is a mythological creature which has the head and upper torso of a female and the tail of a fish. The first known mermaid stories appeared in Assyria in 1000 BCE. They are referenced throughout world mythology, variously known as sirens, water fairies, water nymphs and selkies. It is believed their mythic origins might be linked to manatee or dugong sightings by sailors.

LIFE AS MYTH RETROSPECTIVE 2011

2007 - 2010

Jewel Lake. Usher.

It is so difficult to describe what the sky and the water do here -- but it is like they are one seamless curtain of silk, a silk that is every shade of blue. Because the horizon is so open, you can see an unlimited expanse of that blue silk and it ripples and shifts every time the light breaks through the clouds to dance on some distant stretch of waters.

At the furthest most point, there is a beautiful beach with very fine white sand. It sits in a deep basin with mountains rising up on either side and the water is a deep turquoise which turns powder blue further out. And in the distance you see the backs of blue-violet mountains rising out of the ocean.

The Celts told of a place called Mag Mell. According to their myth, you only find it by accident -- usually when you are in a boat which is driven off course by a storm. What makes this Celtic paradise different from so many others in world mythology is that it is not an afterlife realm of shadows or eternal punishment. It is something altogether different. Mag Mell, meaning "the plain of joy," is a place of eternal youth and beauty, a place where sickness and death do not exist, a place where all those things which are beautiful in this Life finally come together.
LIFE AS MYTH RETROSPECTIVE 2011

2007 - 2010

A farm mother and her child. ca. 20th Century. National Archives.

Someone in the southeastern United States recently bought one of my paintings and yesterday I mailed it to him. In order to save shipping costs, I packed the box myself. The end result weighed just over seven pounds and measured an unwieldy 33" by 41" by 3". In other words, though light in weight, the box was still long enough and wide enough to be extremely difficult to carry. Unwieldy-ness notwithstanding, since the FedEx satellite store was only a few blocks away, I decided to carry it there myself.

While making my way up Broadway, the box slipped and shifted constantly. I tried several ways of carrying it but none worked for very long. Finally I had an inspiration and lifted the box up to my head and in that way I successfully made it to the FedEx store. What a comical sight I must have made, like some Dr. Seuss imagining -- a quite tall, so freckled, white lady with a box growing out of her head.

Which brings me to what happened yesterday on the way to the FedEx store: I experienced the workings of my mythic eye. My lens on the world is my "mythic eye." That means I tend to use symbols and metaphors when interpreting the world around me. And yesterday my mythic eye contemplated the spectacle of walking down Broadway with a box growing out of my head and saw something larger.

It's kind of hard to explain but in that particular moment I felt connected to other women, possibly all other women, women and how they work through their day, whether raising children or governing countries or walking around with boxes on their head. And I saw my part in that bigger picture as both unique and yet also universal. For a few moments I experienced the beautiful groove of my life and how amazing that felt to be in it. And interestingly, that moment came not at my easel -- but while managing the details of my daily life.

(top to bottom) A group of women weaving, Italy, ca. 1900; Olga Preograjenska, Russian prima ballerina, 1896; Charlotte Bronte, writer and poet, 1854; Rosa Parks, civil rights activist, pictured here with Dr. Martin Luther King, 1955; A mother and children walking, San Francisco, ca. 1910; EllenTerry, British actress, as Beatrice in Shakespeare's Much Ado About Nothing, 1908; Mahalia Jackson, gospel singer, 1962; A group of polio ward nurses, 1958; Virginia Woolf, feminist writer, 1882-1941
LIFE AS MYTH RETROSPECTIVE 2011

2007 - 2010

Parsifal, also known as Saint John. Odilon Redon. 1912. Musée D'Orsay, Paris.

Parsifal. We first met in an exhibition room at the Musée d'Orsay in Paris. His face, however, was not nearly so clear that day as the image above. In the museum it was clouded by fluorescent lighting, the colors and soft details shrouded by dim, blue light. But the poor lighting actually contributed to an atmosphere of mystery which was part of the wonder of encountering Redon's Parsifal for the very first time. Encounter would be the right word here. Or maybe collision is even better.

I circled through the d'Orsay numerous times, leaving Parsifal behind to visit other exhibitions -- only to find my way back, time and again, to Redon's visionary world. What was it that kept calling me back? The answer is at the heart of great art and great artists, the idea of pointing to something unseen, something transcendent, something beyond words and ideas. And that is what I experienced while colliding with Parsifal and Redon.

And so to Parsifal, the archetype of the innocent fool.

When Parsifal lost his father, he was still a little boy and so his mother took him to an isolated cottage in the woods to raise him. In this way his mother shielded him from all knowledge of the world and its dangers. One day, however, he encountered a Grail knight and decided that he, too, would become one. A mere fifteen years old and dressed only in the homespun garments his mother made for him, Parsifal left home.

His travels brought him to the magical Grail Castle. Not everyone can see the castle but since Parsifal was innocent and pure he was able to see it. Once inside, he met the wounded Fisher King and witnessed the spectacle of the Grail procession. He longed to ask what the procession meant and why the king suffered. But his mother had warned him that it was impolite to be inquisitive and so he refrained from asking any questions. This silence was tragic, as asking those questions would have ended the suffering of the king.

Shortly after leaving the castle, Parsifal learned of his mistake. He wanted to return and set things right but it was too late. The Grail Castle had disappeared.

For the next twenty years, Parsifal tried to find his way back to the castle and to the wounded Fisher King. Finally he did (after many adventures) and when he asked the questions -- Why does the king suffer? Whom does the Grail serve? -- the Fisher King was healed and Parsifal, no longer a young fool, became the keeper of the Grail.

Parsifal is the fool, the fool within all of us, who must create space between himself and the world as he knows it and embark on the journey. Whether male or female, each journey and the challenges that come with it are unique to the individual. But whether you go deep into the woods to pursue the fabled white deer, as King Arthur did, whether you enter the Grail Castle, as Parsifal did, whether you push off from familiar shores as Odysseus did -- you must be willing to leave your home behind and enter the uncharted realm of your soul's wilderness.
LIFE AS MYTH RETROSPECTIVE 2011

2007 - 2010

Parsifal II. Odilon Redon. 1891. Art Institute of Chicago.

One wonders why it is necessary that a part of one be so badly wounded . . . But many legends inform us that we must pay a price for the departure from the Garden of Eden and the journey to higher realms of consciousness.
Robert Johnson: The Fisher King and the Handless Maiden: Understanding the Wounded Feeling Function in Masculine and Feminine Psychology

Odilon Redon explored the character of Parsifal, the archetypal Arthurian fool, several times in his career. Some art historians believe that the first stone, which Redon used for Parsifal I, was either flawed or broke late in the artistic process. Whether the stone broke or not is debated. However, there is a general consensus that Parsifal I does not represent the ultimate result.

Between the creation of Parsifal I and Parsifal II there was another image: The Druidess (a lithograph from 1891). By inverting Parsifal I and comparing it to The Druidess, it becomes clear that the same stone was used for both works.

There is another argument that the actual progression of the image begins earlier than that, with Druidess I (no longer in existence). Under that theory, Redon reworks the stone used for Druidess I and creates Parsifal I. He then etches the stone, yet again, to the existing lithographic image of The Druidess (1891).* But whether Parsifal or a Druidess was the original image, the intimate mythological link between hero and prophetess which Redon explored provides a rich context with which to consider these lithographs.

FURTHER READING

*A detailed explanation of this theory is in the December edition of The Art Bulletin. That article also contains images of Parsifal I and The Druidess (1891). See: Dario Gamboni, "Parsifal / Druidess: unfolding a lithographic metamorphosis by Odilon Redon". Art Bulletin, The. Dec 2007.

LIFE AS MYTH RETROSPECTIVE 2011

2007 - 2010

The resurrection. Piero della Francesca. 1460. Museo Civico. Sansepolcro, Italy. Sansepolcro, the birthplace of Francesca, translates as 'holy sepulchre'.

Piero della Francesca was an Italian artist who also was an accomplished mathematician and geometer. His mathematical knowledge influenced his art as evidenced by his use of foreshortening, geometric forms and innovative perspectives.

The resurrection is one of his mature works and features the artist as one of the sleeping soldiers at the feet of Christ. The painting is set at dawn, at the very moment of resurrection. The theme of new life is mirrored in the trees in the background, with the trees on the left still leafless and dormant and the trees on the right flush with growth.

self-portrait of the artist [ca. 1415-92] from The resurrection