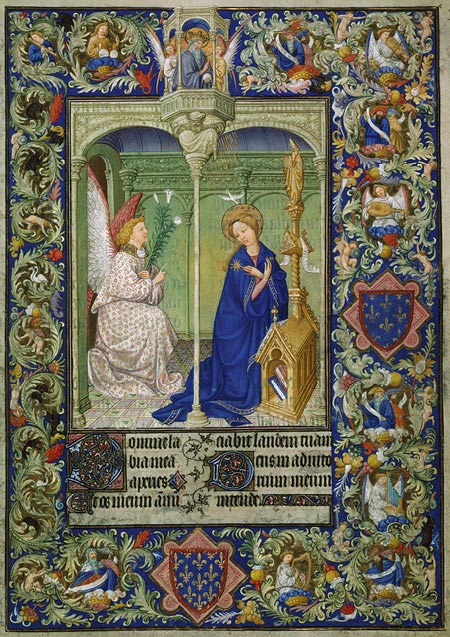 The annunciation, Limbourg Brothers, The Belles Heures of Jean of France, Duke of Berry*. Ink, tempera, and gold leaf on vellum; The Cloisters Collection. Metropolitan Museum of Art. ca. 1406-09. *Item, une belles Heures, tres bien et richement historiees (Item, a beautiful hours, very well and richly illuminated)
The little office of the blessed Virgin Mary is a weekly devotional cycle consisting of psalms, hymns and sacred readings. It began in the eighth century as a monastic spiritual practice. By the tenth century it had come into more widespread use and was a standard text in the book of hours. By the fourteenth century it was obligatory practice for all clergy.
This ritual remained in widespread usage until Pope Paul VI recommended to the church that practitioners use the Divine Office in lieu of The little office of the blessed Virgin Mary "so that they may participate more intimately in the liturgical life of the Church...." Following this instruction by the Pope, many congregations abandoned the office in order to adopt the Liturgy of the hours. However, there have been several editions of The little office since then and it has never been out of print.
In the Middle Ages books were usually displayed on ornate stands [detail above from The Belles Heures]. Since books were scarce and quite valuable it was not unusual for books to be chained to their stands as a measure against theft.